Microsampling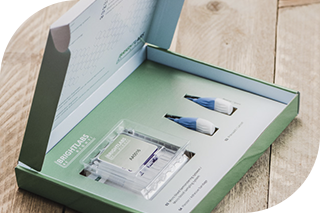 Fast and reliable measurements of vitamin- and mineral contents in your own body? With Brightlabs' new Micro Sampling Kit this becomes a possibility! Just one drop of blood is enough to gain insights in your own health. And to measure is to know, especially when it concerns your own health.
Unique about this Micro Sampling Kit is that you can carry out the test all by yourself. After placing the order, the kit is delivered to your home by letterbox mail. So there is no need to visit a medical facility. The kit contains a small lancet for single use, micro sampling tips (to absorb the blood), a band aid, instructions manual, and a self-addressed envelope. Mail the sampling tips within a day after taking the blood, and within seven working days the results will be available on www.microsampling.nl via a secure and unique code. The Micro Sampling Kit is validated and gives the same results as the tests a general practitioner or hospital would produce, but without a visit to a medical facility.
Contact
Questions? Please feel free to contact us.