Industry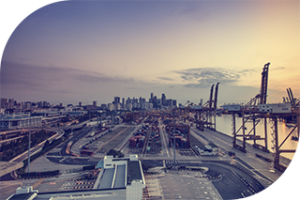 Brightlabs is the partner for chemical analyses in the Industry. As high-end laboratory, Brightlabs' analysis equipment is all state-of-the-art. No single question is the same, which is why Brightlabs works with a project-based approach and why we focus on the solution. To do so, we will give our customers input and ask critical questions to find pragmatic solutions that will support your projects.
Our ICP-MS enables us to analyse various elements on a very low level (sub ppm). To do so we have developed an in-house screening method, which can search for the presence of elements on a semi-quantitative basis.
Through the full (microwave) destruction of samples, it is possible to quantitatively measure specific elements on a very low level. Examples are the analysis of remnant catalysts in synthetics, the presence of heavy metal food acids, or the measuring of contaminations in colourants.
Together with our customers, we devise a project plan in a number of steps, so that we can come to the right solution for your question. To do so, we can apply an existing analysis method to your product, or, if none are available, develop a new method for your application. A project plan usually consists of at least these steps:
Method development, first to clean standards, followed by the introduction of your sample matrix.
Short validation/verification, to verify the accuracy of the method
Recording of an analysis method and/or report
Analysis of regular samples.
We adjust the specific implementation of the steps together with our customers and make sure they fit the question.
Analysis of formaldehyde in resins and wools.
Here, the extraction of the formaldehyde is of the upmost importance, since it is detrimental that this develops during the sample preparation. Together with the customer a method was developed that could product specifically measure formaldehyde properly and reproducibly.
The analysis of monomer remains in polymer matrix.
By using a HPLC-RID (refractive detector), a method was developed for the presence of remnant alcohols in a polymer matrix. When a regular GC or Headspace method would be applied there was a heightened risk of demolition, and, with that, a heightened value. That is why a low temperature HPLC-RID method was developed to quantify these alcohols.
The determination of the amount of remnant antioxidant in a cream.
By means of ion chromatography the sulphite content is used to measure the remainder of the antioxidant content. However, ion chromatography is a watery analysis method, in which the antioxidant must be extracted without reacting to sulphate, among other things. Together with the customer, a product specific method has been developed to measure it quantitatively and to stabilise the antioxidant in a solution for the analysis.
Contact
Questions? Please feel free to contact us.